Well it was impossible to miss the Meghan effect across Australia last month as their Royal Highnesses the Duke and Duchess of Sussex toured down under to celebrate the launch of Harry's beloved Invictus Games. Notwithstanding that unexpected baby news, the Fruition team of Brisbane hairdressers were obsessed with keeping up with Meghan's hair looks!
As hair obsessives, we have pored over every element of Meghan's perfect cut, chic styles and stunning colour, just like you guys. The only difference is that we can have fun recreating it in the best Brisbane hair salon for you. So screenshot the below, choose your favourite look and come in and let us create your own 'Markle sparkle'. Here we run through some of the looks voted our favourite by our award-winning team of Wilston hairdressers.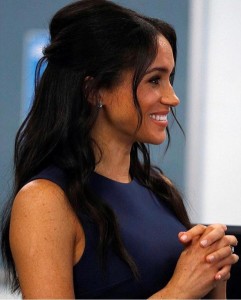 The half up, half down hairstyle has been making its way back after a few years seemingly in hair purgatory. It's been spotted on the recent SS19 catwalks, plus on the odd celeb here and there, and it's not hard to see why. It's infinitely wearable and flattering for most face shapes. Pulling hair up and away from the face, yet framing it subtly, it's a look for everyone. Meghan's hair length is particularly perfect, and we love the softness it gives in between an updo and loose waves.

Our favourite casual look of the tour, Meghan was the epitome of relaxed sophistication with this ensemble. Never mind that these Outland jeans sold out instantly, we love the way she mixes high street and designer fashion on the regular. This simple ponytail is perfectly voluminous, and the side part and side swept fringe makes it a little more feminine than simply swept back.

Pure elegance, this look is refined and timeless- the classic twisted chignon. With her tumbling curls all twisted up into that intricate knot, it adds a touch of interest to a simple one twist version. We love the way Meghan softens all her hair looks with face framing flattering strands. Though subtle, they are thick enough to not look wispy or messy, and they add a fresh modern take on very staid updos. Ever since her stunning wedding hair it has become a bit of trademark and we are definitely here for it!

Well if this isn't the ultimate show stopping look of the tour, what is? This whimsical and magical dress by Oscar De La Renta would make a princess out of anyone, let alone her royal highness. With so many chic updos this tour, it was the perfect choice to pair this dress with loose, tumbling waves. Classic old Hollywood glamour, reminiscent of that other very modern Princess- Grace of Monaco. The modern middle part keeps it from being too formal and her hair has maximum shine. Perfection.
Post image credits: @dukeandduchessofsussexdaily